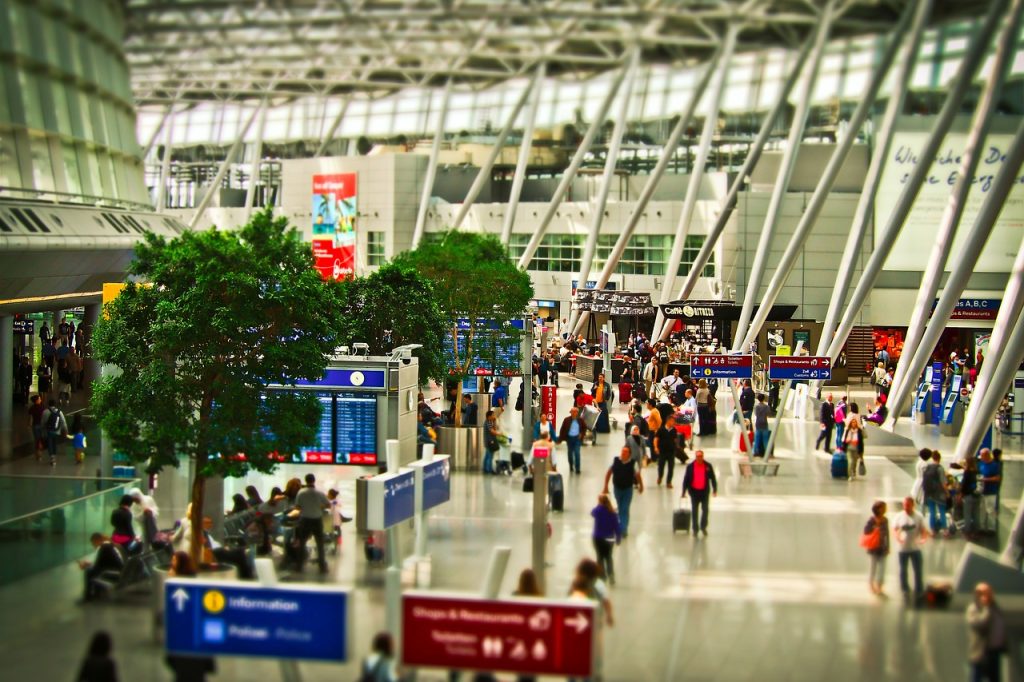 The USA is home to some of the busiest airports in the world, including John F. Kennedy International Airport in New York and Los Angeles International Airport in California. These airports serve not only as gateways for domestic and international travel, but also as airline hubs for big carriers like Delta and United Airlines. In order to serve their traffic coming from large amounts of passengers, they have been designed to provide a wide supply of shopping and eating possibilities as well as various amenities and passenger services.
Whether you are stuck on a long layover or shortly passing through the airport, we've created a list of some of the best things to do to keep yourself entertained at the 10 busiest airports in the USA.
1. Hartsfield-Jackson Atlanta International Airport (ATL) – Total passengers 2017: 103,902,992
Enjoy the arts and music: The airport offers endless permanent and rotating art exhibits as well as occasional performances from local musicians.
Need to loosen up?: Relax at 'XpresSpa' with services such as Sinus and Stress Relief or a reflexology massage.
Try different cuisines: the airport's food court is famous for its international dining options including Mexican, Asian, and Italian restaurants
2. Los Angeles International Airport (LAX) – Total passengers 2017: 84,557,968
Cuddle puppies: LAX passengers can de-stress with the airport's furry friends as part of their 'Pets Unstressing Passengers' program.
Fancy dining: stop by 'Petrossian Caviar & Champagne Bar' for a lavish airport experience.
Snap up some bargains: shop till you drop at the 'Great Hall' shopping mall in the Tom Bradley International Terminal.
3. O'Hare International Airport (ORD) – Total passengers 2017: 79,828,183
Take a dip: The on-site Hilton Hotel offers a fitness center that includes a lap pool, steam room and sauna.
Aeroponic Garden: passengers at the airport can relax or enjoy a small meal at the world's first aeroponic airport garden.
Relax, reflect and recharge: stretch it out at the 'Yoga Room' near the Urban Garden.
4. Dallas/Fort Worth International Airport (DFW) – Total passengers 2017: 67,092,194
View aircraft movement: 'The Founder's Plaza' at DFW allows passengers to observe planes take off and land up close.
Game on: gamers at 'Gameway' can play on an Xbox One with 4K TVs, noise cancelling headphones, leather chairs and more.
Freshen up: 'The Bubble' by Coca-Cola is an innovative yet vintage Coca-Cola inspired space that features power outlets, TVs and comfortable seating areas.
5. Denver International Airport (DEN) – Total passengers 2017: 61,379,396
Meditate or pray: the airport features an interfaith chapel and prayer hall that is open 24/7.
Take a stroll through time: Denver's "Deep Time / Deep Space, A Subterranean Journey" is tunnel installation inspired by Colorado's industrial and social history and decorated with images drawn of mineshafts, a cave and deep space.
Get connected: surf the internet or watch a TV series with the airport's free Wi-Fi.
6. John F. Kennedy International Airport (JFK) – Total passengers 2017: 59,345,421
Unwind in a lounge: some airline lounges offer day passes that passengers can book to escape the hectic airport environment. Wingtips Lounge is open to all passengers, regardless of airline or class. The lounge features complimentary Wi-Fi and snacks and beverages.
Layovers of 5+ hours: if you've got a really long layover, consider riding the AirTrain to Manhattan for a quick NYC trip. However, make sure to plan accordingly so you have enough time to pass through security again.
Pick up a souvenir: Bring your friends or family a last-minute souvenir from the various NCY shop at Terminal 5.
7. San Francisco International Airport (SFO) – Total passengers 2017: 55,832,518
Learn about aviation: The Aviation Museum & Library educates travelers on the history of commercial aviation and is adapted from the airport's 1930's passenger lobby.
Travelling with children?: visit the 'Kid's Spot' for some fun with the kids.
Indulge in organic food: stop by Napa Farms Market, a local artisan marketplace and café, for a wide selection of sustainable sourced food and beverage options. Vegan and gluten-free also available here.
8. McCarran International Airport (LAS) – Total passengers 2017: 48,500,194
Gamble away: true to Las Vegas nature, the airport offers slot machines for travelers over 21.
Get fit: 'Fly Fit!' walking paths motivate passengers to walk a mile and get their blood running between flights.
Unwind with a cocktail: Sip on a Bloody Mary or Margarita at 'The Layover Bar'.
9. Seattle-Tacoma International Airport (SEA) – Total passengers 2017: 46,934,194
Experience the City of Music: Seattle is known to support independent artists and the airport is no exception. Catch a live performance any day of the week throughout the terminal.
Buy unique glass votives: Seattle-based 'glassybaby' sells hand-blown, one-of-a-kind glass votives to decorate your home. Glassybaby is also committed to giving back to those in need. With each purchase, approximately 10% is donated to nonprofit organizations.
Take a trip to Africa: Stop by the 'Africa Lounge', an exotic getaway from the hustle n bustle from the airport. The lounge is furnished with leopard prints and hand-painted murals and serves decadent snacks like the Zulu pulled pork platter.
10. Charlotte Douglas International Airport (CLT) – Total passengers 2017: 45,909,899
Shopping for sports enthusiasts: 'The Scoreboard' in CLT sells local sports apparel and accessories.
Taste of Carolina: Head to Brookwood Farms BBQ for a taste of traditional, real Carolina pit-cooked BBQ flavor.