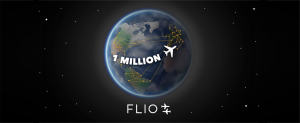 A new milestone has marked the beginning of this year – FLIO has reached 1 million installs! Following a very successful year in 2018, FLIO continues its journey to keep improving your air travel experience.
As you may have already discovered and enjoyed, 2018 was a year of significant improvement for us. We continued improving our flight tracking feature, integrated several ways of adding flights and gave you access to the best flight tracker for flight updates out there.
Today you have access to instant flight information from 5000+ airports, 170+ redeemable food and shopping offers, 370+ purchasable lounges and 1000+ parking facilities. Soon, you will also be able to claim compensation for delayed, cancelled or overbooked flights.
Many travellers appreciate these additional features as we now have accumulated over 1 million app installs and counting. By integrating the cool features mentioned above, we were also able to exceed the overall travel experience of our app, winning us the title of "Best Customer Journey Experience" by the Crystal Cabin Award as well as user consistent ratings above 4.4★ in the app stores.
FLIO's goal moving forward is to make you aware of all aspects of your trip. Stephan Uhrenbacher, FLIO's founder mentioned, "In the near future, we strive to give passengers even better information, changing the airport experience from the most stressful part of the journey to an efficient and enjoyable one."
For all these reasons and more, FLIO is proud of improving air travel experience and to bring additional value to each travel lover around the world. This is why we will continuously strive to make our app your best flight companion now and in the years to come.
Check out our Twitter, Facebook, Instagram for more exciting news this year!
You can download FLIO from Google Play or from the App Store
Wishing you happy travels,
Your FLIO team